Faith, Truth and Deliverance Church of God by Faith, Inc.
Miami Gardens , FL 33056
Phone:
7862588404
Email:
gmail.com@Ftdcogbfmiami
Church Service Schedule
Sunday Morning 1st and 3rd Sundays 8:00 am (Temple)
Sunday 11:00 am (Temple)
Monday 7:00 pm (Ministry Annex)
Wednesday 7:00 pm (Ministry Annex)
2nd Saturday of each month (Community Outreach) Ministry Annex
FOR ONLINE GIVING
Cash App - $ftdcogbf
Givelify - Church of God by Faith, Pastor Cleveland Roberts, 16969 NW 23rd Ave Miami Gardens, FL 33056
Greetings to our Guests. Thank you for visiting our Website. If you would like to join us for our Corporate Prayer Service
(Hour of Power) or our Bible Study (Warriors in the Word) please join us at our
Ministry Annex at:
2201 NW 153 st. Opa-Locka, FL 33054 at 7:00 pm on Monday and Wednesday Evenings.
To Call our Prayer Line every Tuesday Morning at 5:30 am
Call in Number : (605) 475-4120
Access Code : 5058819
WE ARE ONE CHURCH IN TWO LOCATIONS!
for more information please call Min. Nicole Boone (305) 955-3530.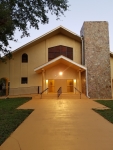 Church History
FAITH, TRUTH and DELIVERANCE COGBF
Established:
During the 2014 December Centennial Celebration in Atlanta, GA. the combining of the Church at Miami Gardens and Faith, Truth and Deliverance was announced by Bishop James McKnight, Jr. with Elder Cleveland E. Roberts, III as the Pastor. The first official service was January 4, 2015.
Elder Cleveland E. Roberts III has been a Pastor for over 27 years. He is a native of Miami, FL., a product of the Miami-Dade Public Schools and a graduate of Bethune-Cookman University. Pastor Roberts accepted the Lord in 1988 and began to Pastor in 1993. As a visionary with a heart for this community, Pastor Cleveland E. Roberts III and Lady Regina Roberts remain diligent to their God-given mandate to lead this congregation in "Winning the World, With the Word.
CHURCH OF GOD BY FAITH, INC
Established: 1914 in Jacksonville, FL.
Founders:
Moderator John Bright
Bishop Aaron Matthews
National Evangelist Nathaniel Scippio
Executive Secretary Hubert Steadman
Official Charter of Incorporation: 1923
Bishops:
Bishop Aaron Matthews
Bishop Willie W. Matthews
Bishop Emeritus James E. McKnight, Sr.
Presiding Bishop James E. McKnight, Jr.
Council of Ruling Elders:
Ruling Elder David C. Rourk (Retired 2019)
Ruling Elder Horace N. Turner, Sr.
Ruling Elder James Ware
Ruling Elder James Williams III
Ruling Elder Reginald Damon (2019)
Locations:
170 churches and missions from Miami, Florida to Buffalo, New York and from San Antonio, Texas to Tacoma, Washington International church Talcahuano, Chile
National Headquarters:
2409 Old Middleburg Road N
Jacksonville, FL. 32210
---